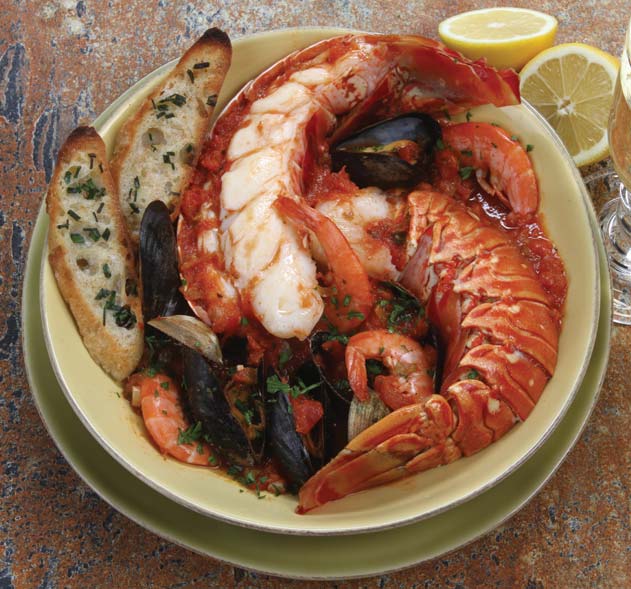 C ISLAND PRIME

TM


LOBSTER CIOPPINO
INGREDIENTS:
2 6 oz split C Island Prime lobster tails
1/4 lb shrimp
1/2 lb cockles
1/2 lb cleaned mussels
2 tbs olive oil
2 garlic cloves, minced
3 scallions, chopped
1 1/2 cups canned chopped tomatoes
3 tbs of tomato paste
1/2 cup dry white wine
1/2 cup seafood stock
1/2 lemon, juiced
1/4 tsp dried basil
a pinch of dried oregano
1/4 tsp prepared horseradish
salt and pepper
chopped parsley for garnish
Saute garlic in olive oil until fragrant. Add chopped scallions, and continue to saute. Add tomatoes, tomato paste, white wine, seafood stock and the juice of one half of a lemon. Season with dried basil, dried oregano, prepared horseradish and salt and pepper to taste. Simmer to reduce slightly. Remove a ladle full of the sauce and place it in a pot large enough to hold the lobster tails. Steam the tails in the cooking liquid until done. Set aside and keep warm.
Add the shrimp, cockles and mussels to the original pot of sauce. Cook over medium-high heat until the cockles and mussels have opened. Add the lobster tails, ladle into bowls and garnish with fresh chopped parsley.Serve with crunchy garlic toast.