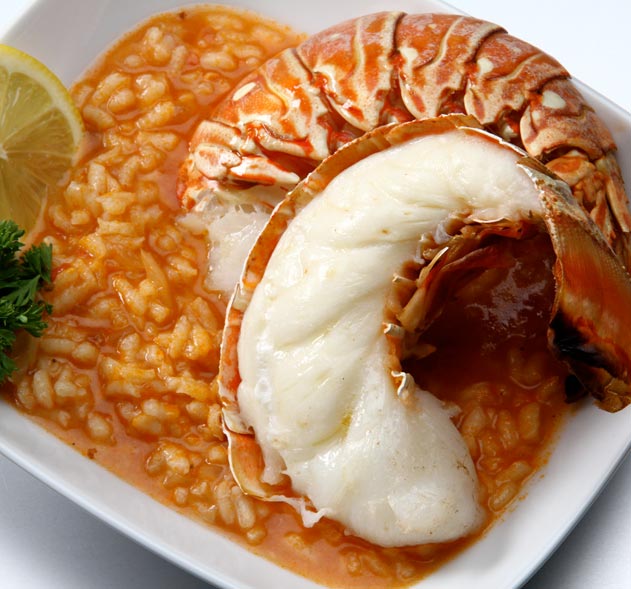 MARAZUL

TM


LOBSTER RISOTTO
INGREDIENTS:
1/2 onion, chopped
1/2 carrot, chopped
1 bay leaf
4 Marazul lobster tails, split
2 tablespoons olive oil
2 tablespoons butter
1 medium onion, chopped
2 1/2 tablespoons tomato paste
1 1/2 cups Arborio rice
1 cup dry white wine
2 tablespoons butter
Bring 4 quarts water to boil with 1/2 onion, 1/2 carrot and 1 bay leaf. Reduce to a simmer and cook for 5 minutes. Lower the lobster tails into the liquid and simmer until opaque and almost fully cooked. Wrap lobster tails in a foil packet and place in a 250o oven to keep warm. Keep cooking liquid warm on stove.
In a large frying pan, heat the olive oil and 2 tablespoons of butter. Add onion and tomato paste over medium heat until transparent, about 8 to 10 minutes. Add rice and, stirring constantly, cook until opaque, about 2 minutes. Add white wine, then lobster cooking liquid until rice is covered. Turn heat to high and, stirring constantly, continue to cook, maintaining the level of liquid just above the level of rice, for 15 minutes. Continue cooking until rice is soft but still al dente. Season with salt and pepper, remove from heat and stir in remaining 2 tablespoons of butter. Spoon risotto into dishes, top with split lobster tails and serve immediately.