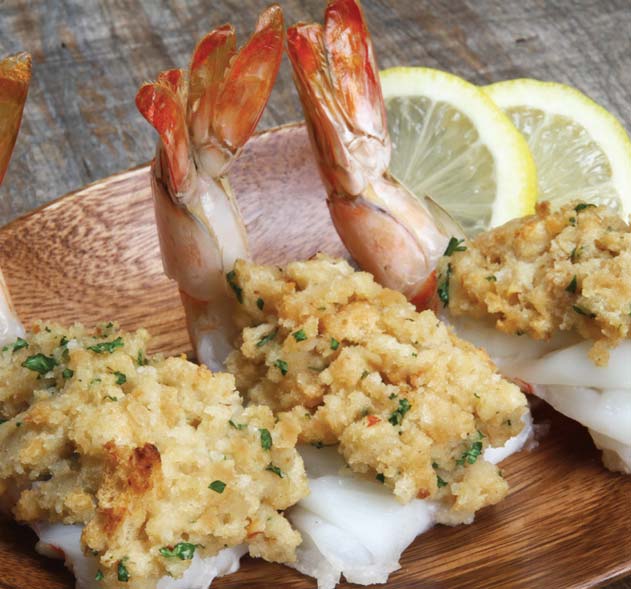 SEA DELI

TM

COLOSSAL
STUFFED SHRIMP
INGREDIENTS:
12 jumbo shell-on Sea Deli
TM
shrimp
4 tbs butter
2 tbs olive oil
2 tbs minced shallot
2 cloves minced garlic
3/4 cup white wine
1/4 tsp red pepper flakes
salt and peeper to taste
1 1/2 cups homemade dry breadcrumbs
1 tbs chopped parsley
Preheat oven to 450º. Peel shrimp leaving the tail segment intact. Butterfly.
Place butter and olive oil in a saute pan. When the butter is melted add the shallots and saute until translucent. Add the garlic. Cook till fragrant. Take care not to brown. Add the wine, red pepper flakes, salt and pepper and cook for a few minutes. Remove from the heat, add the breadcrumbs and parsley. Mix well.
Spoon the breadcrumb mixture over each of the butterflied shrimp. Using your fingers, gently shape each portion onto the shrimp, leaving the breadcrumb mixture loosely compressed.
Spray a cooking sheet with nonstick spray. Place the shrimp on the pan and bake in the top third of the oven for 10 to 12 minutes. Be careful not to overcook.
Remove from the oven, sprinkle with some lemon juice and serve immediately.